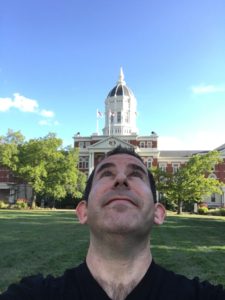 I'm Harlan Cohen and I've helped millions of people around the world get comfortable with the uncomfortable. I'm a consummate imperfectionist. I'm flawed, but I wouldn't want it any other way. In terms of physical attractiveness, I'd give myself 8.2 out of 10. I've gone up .6 points over the last year due to weight loss and physical training. Someone recently expressed to me that she thinks it's strange that I rate myself — she called it "kind of vain." I told her I do it so strangers don't rank me first. I called it self-preservation. As a result, she decided to rate herself.
Now my quick professional story: I'm a New York Times bestselling author of six books, a nationally syndicated advice columnist, and a speaker who has visited over 400 college campuses.   I've helped millions of people make the transition to live in college, find love, and follow their passions. I'm an expert on life transitions. I appreciate experiencing the highs, lows, and everything in-between in life.  I'm always working to be my personal best (a never-ending journey).
My writing professional career began at the Indiana Daily Student, the college newspaper at Indiana University. I started writing editorials and soon realized my love for writing (and making people laugh). My first editorial was about why deer hunters should shoot deer with contraceptives instead of bullets. The summer before my bonus senior year (I graduated in 4 1/2 years), I interned at The Tonight Show with Jay Leno. It was during that internship that I met a writer who wrote advice. I liked the idea and went back to IU, where my Help Me, Harlan! advice column was born.
At first, I started to write about my own problems (I had many). I started to help myself. Shockingly, real people started to write to me. I reached out to real experts to help me answer questions. After reaching out to so many experts, identifying trends, and finding recurring themes, I've become an expert.
After graduating from college, I decided to continue writing my column. I wanted to become a syndicated advice columnist. So, I sent out media kits to 50 newspapers. I sold my advice column to five newspapers (I got paid $5 a week for each newspaper). A year later, The New York Daily News picked up my column. I was 22 years old and reaching millions of readers. Nine years after starting my column, I was picked up by King Features Syndicate. King Features continues to distribute my column in newspapers around the world.
As my column spread across the country (like a bad rash at a nudist camp), my speaking career began to boom. Purdue University (Indiana University's rival) invited me to be the keynote speaker at Boiler Gold Rush, their big orientation program. The head of orientation called me up and said, "Do you speak?" I said, "Everyday!" After meeting with Marnie and her team, I was hired.Over 400 college campuses later, my speaking career continues to be one of the most rewarding parts of my career. I LOVE live events. Being on stage is a rush. ANYTHING can happen. I speak to high school students, college students, parents, and adults of all ages. I love helping people get comfortable with the uncomfortable. My shows are energetic, interactive, funny,  and unpredictable (I take questions live via text during the show).
While speaking and writing over the years, I've spotted trends and patterns. That's why I write books. I don't enjoy the writing process. I find it hard to concentrate and I get lonely at times, but I love sharing information in the end product.
My specialty is nonfiction focusing on transitions, risk-taking, rejection, success, love, happiness, and passion.
My first book was Campus Life Exposed; Advice From The Inside (Petersons). Five years later, The Naked Roommate: And 107 Other Issues was released by Sourcebooks. This one has become a New York Times bestseller and is used as a textbook in over 100 college classrooms. The book has struck a nerve because it gives students permission to be imperfect — and that makes everyone perfect. I'm also author of the books, The Naked Roommate: For Parents Only, The Naked Roommate's First Year Survival Workbook, Dad's Expecting Too: An Expectant Parents Guide and my newest book, Getting Naked: Five Steps to Finding the Love of Your Life (While Fully Clothed and Totally Sober). I love this book!

When I'm not writing, I'm helping students and parents via Naked Roommate College Boot Camp, answering questions via video, hosting web events, and sharing advice on television and radio. I love spending time with my wife and kids (I have 3 of them–kids, not wives) the most. Family is my #1 priority. I'm based in Chicago, but I hop around the country a lot.  You'll probably see me in an airport at some point (I'll be carrying a guitar). If you see me, say hello. I would LOVE to visit with you. Then we'll go wherever we are supposed to go. You can follow me on Twitter @HarlanCohen and on Facebook www.Facebook.com/HelpMeHarlan, but please don't follow me around the airport. If you have questions or need advice please write me here.